I've just found interesting plugin. May be its time to get little trackback to early 2000?
Subscribe2 is a WordPress plugin that you can use to keep users up-to-date on new posts by sending them email every time you publish a new post, weekly or monthly. Email subscription seems like cavemen technology against the glorious wonder that is RSS feeds, but still, many people just don't like RSS enough to use it.
Subscribe2 was relatively easy to install and configure, although it does require editing a file after uploading to configure the page the subscription will appear on. Configuring how email is delivered is easy using the plugin's options page and comes with several different tags you can use in your outgoing mails. The plugin also supports automatically subscribing users that post a comment based on the email they submitted, although i find that a rather sneaky way to get people's address.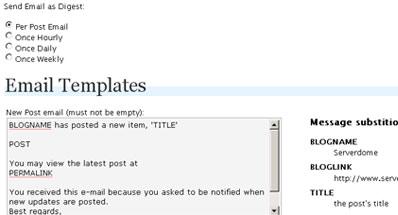 Overall the Subscribe2 plugin is a solid way to keep readers updated via email and works with minimum hassle.
[Via Serverdome]